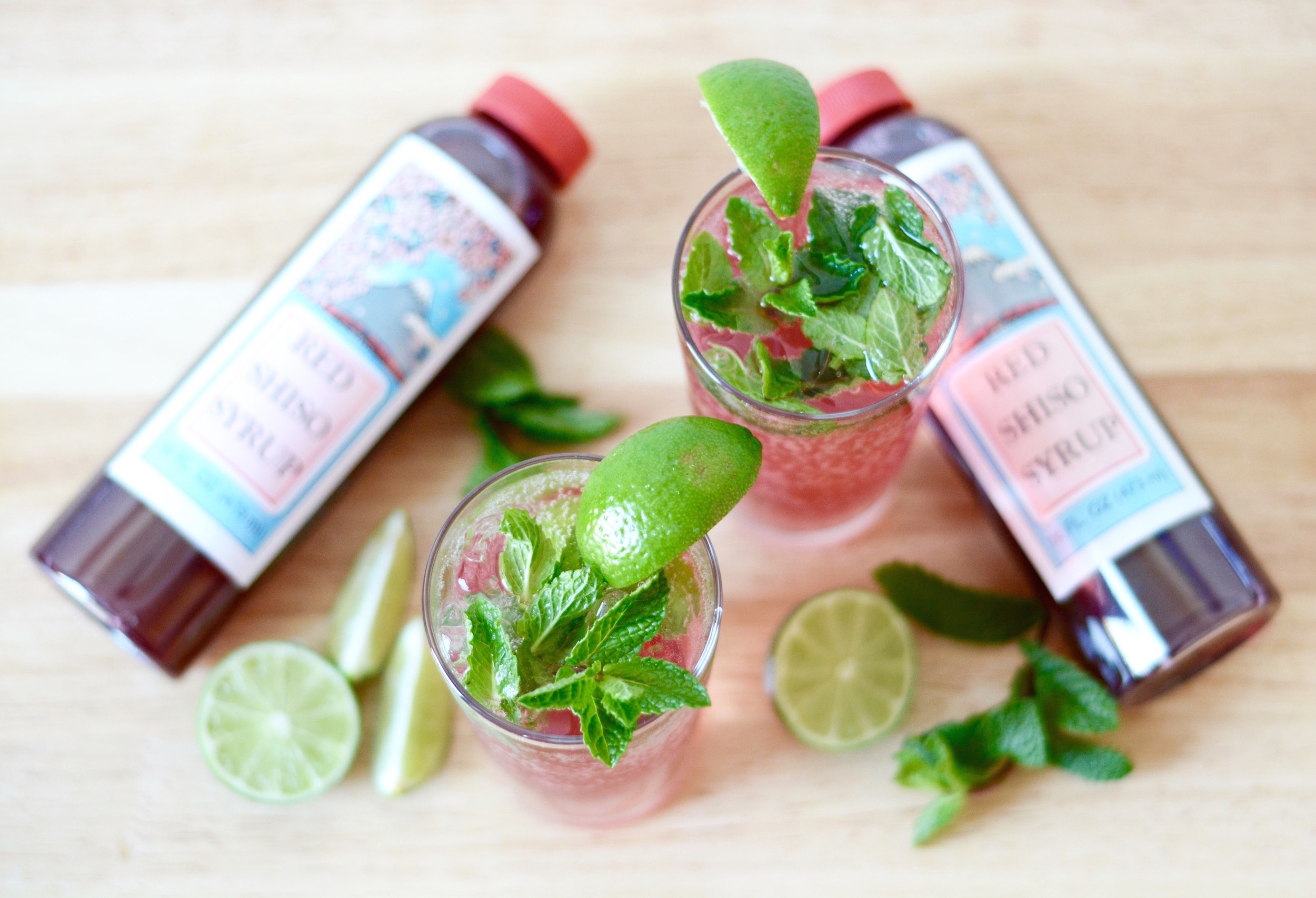 Learn
Learn about shiso, how to enjoy it, and its health benefits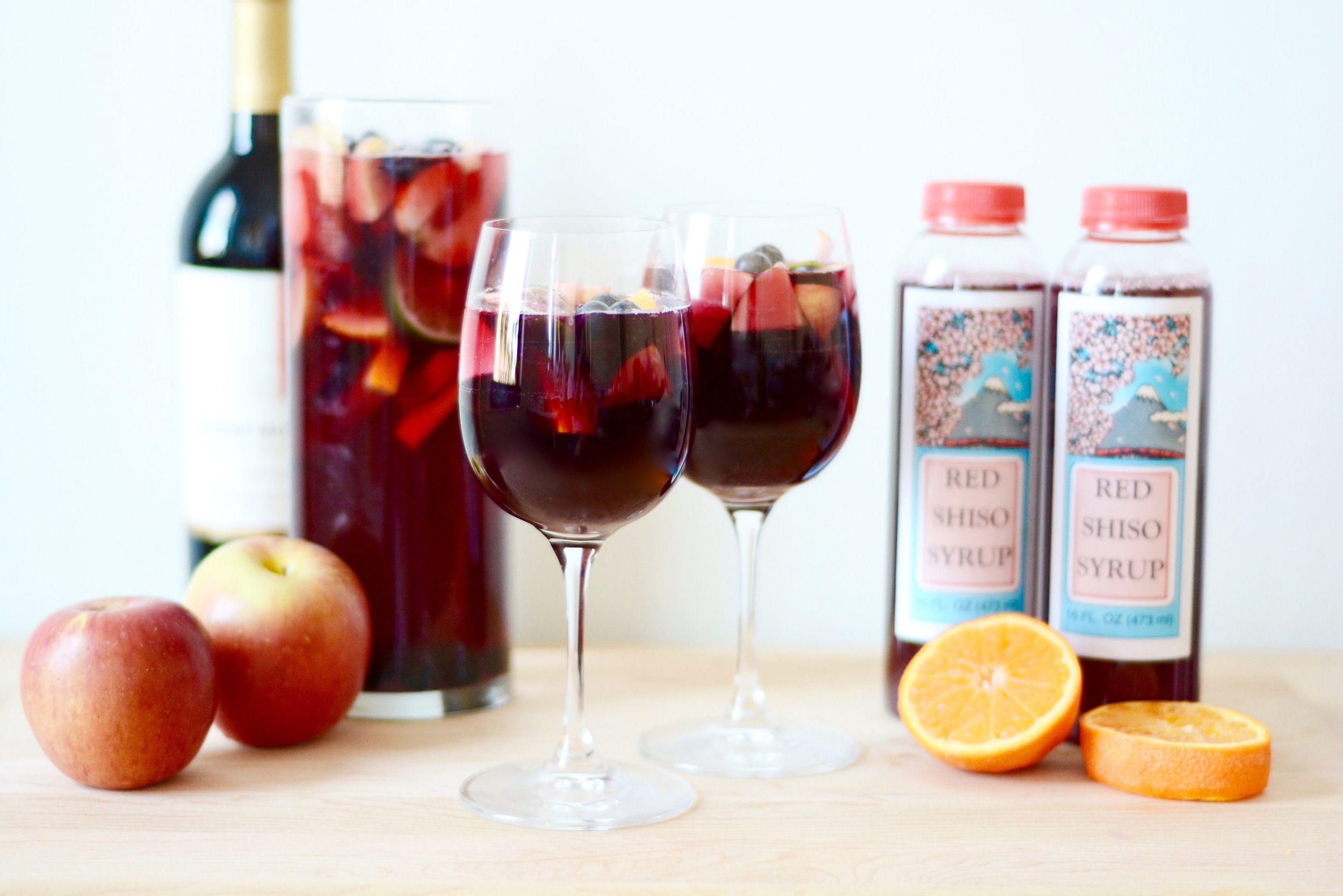 How to enjoy shiso syrup
Hudson Valley Shiso Syrup has a unique sweetened botanical flavor. The syrup is concentrated and is best enjoyed as a supplement to your favorite beverage. Please consider these suggestions or let your taste buds guide you to new flavorful combinations. The amount of Hudson Valley Shiso Syrup you add to your favorite beverage is a personal choice. Some people enjoy the syrup alone, while most mix the syrup with another soft or hard beverage. The Shiso flavor may be new and it is best to first add a small amount of syrup to best appreciate the refreshing taste.
NON-ALCOHOLIC PAIRINGS
Hudson Valley Shiso Syrup can be added to water, club soda, ginger ale, cola, black tea, or green tea. Be creative!
SPIRIT PAIRINGS
Combine Hudson Valley Shiso Syrup with red or white wine to make a spectacular sangria. Mix it with beer and create a delicious summer shandy. Be creative and add your Shiso Syrup to gin, vodka, tequila, or whiskey. Make a new cocktail. A Shiso syrup G & T is unforgettable!
For restaurants
If you are a restaurant or bar interested in learning about using Shiso Syrup for your cocktails or desserts, please feel free to reach out to us.
What is shiso?
Shiso (pronounced SHE-SO) is an Asian culinary and medicinal plant. It is frequently used in Japanese cuisine. There are two kinds of Shiso plants: one plant has beautiful deep RED leaves, the other has GREEN leaves. At the Hudson Valley Shiso Farm we cultivate both red and green shiso plants.
In Japan the red shiso leaves are used both for eating and as a natural beautiful deep ruby-red coloring source. The red Shiso leaves are used to extract their unique flavorful dark red botanical essence to create a unique sweetened summer beverage designed to revive and invigorate the Japanese from their hot and humid summer. Green shiso is typically used as an essential herb in Japanese cooking.
Health benefits
Shiso plants have significant history as a homeopathic herb. Shiso leaves and extracts have been identified as beneficial to treat digestive disorders, asthma, coughs, and pain. Although anecdotal, many of our customers have indicated they feel energized after they have enjoyed our Shiso syrup and some have replaced their morning coffee with a Hudson Valley Shiso Syrup beverage.
Shiso plants are rich in many vitamins and minerals including: Carotene, Vitamin B1, Vitamin B2, Vitamin B6, Vitamin C and Vitamin K. Essential minerals include Calcium, Iron, Potassium, Magnesium, and Zinc.
Perillaldehyde
The shiso plant's unique aroma comes from the substance Perillaldehyde. Perillaldehyde stimulates people's olfactory sensations, activating the secretion of gastric juices, and increasing appetites. It is also said to be effective for smell removal and prevention of food poisoning.
Antosianin
Antosianin is a type of polyphenol, a substance found in dark-colored plants. It has anti-oxidation effects, and effective for anti-aging and lifestyle-related diseases.
Luteolin
Luteolin is a type of flavonoid. It relieves allergy symptoms, detoxes the liver, strengthens immunity, and has anti-oxidative effects.
β-Carotene
β-Carotene is found in many green and yellow vegetables, such as carrots and pumpkins, which are known for their antioxidant effects. Shiso is said to contain three times the amount of β-Carotene as Western pumpkins, and contains the most amoung of this substance among vegetables.
Rosmarinic acid
Rosmarinic acid is most well-known for its effectiveness in suppressing allergic symptoms. The effectiveness of shiso in reducing allergy symptoms is thanks to the antioxidant action of this rosmarinic acid. Recently, there have also been research studies showing that polyphenols such as rosmarinic acid are likely to have a preventive effect Parkinson's and Alzheimer's diseases.
Because shiso contains vitamins such as vitamin B1, B2, B6, β- carotene, vitamin C, E, and K, as well as nutrients such as calcium, iron, and potassium, zinc , and magnesium, it has been used in a variety of folk medicine since ancient times. Shiso juice has especially been embraced as the perfect summer drink from ancient times, because the citric acid it contains is great for combatting the hot and humid summer in Japan.